From abc News
Australian journalist Cheng Lei has returned to Australia more than three years after being arrested in China, reuniting with her family.
Key points:
Cheng Lei was detained after being accused of "supplying state secrets overseas"
The prime minister says she was released after legal proceedings against her concluded
Ms Cheng has arrived in Melbourne and has been reunited with her family who are "very happy"
Ms Cheng was working as a broadcast journalist at Chinese state-owned media, CGTN when she was arrested on August 13, 2020, accused of "supplying state secrets overseas" — an allegation she rejected.
She was put in Residential Surveillance at a Dedicated Facility — a form of detention criticised by human rights groups in which detainees are unable to have contact with the outside world.
Wang Wenbin, Chinese Foreign Ministry spokesman, said Ms Cheng had served two years and 11 months.
"After she served the sentence, she was released," he told media via a translator on Wednesday.
"I'd like to stress that the Judicial Department had this sentence in accordance to law and to protect every right of Cheng Lei in accordance to law, including consular rights."
Prime Minister Anthony Albanese said Ms Cheng's release was a result of legal proceedings against her in China being concluded and he had known about her release "some time ago".
A source has told the ABC that her family are "very happy" to have her home.
Mr Albanese said she had been reunited with her family in Melbourne and he had spoken to her earlier on Wednesday.
"I spoke to her about her recent message, of course, that she made to the Australian people," he said.
"She's a very strong and resilient person, though. And when I spoke with her, she was delighted to be back in Melbourne.
"[The] government has been seeking this for a long period of time and her return will be warmly welcomed, not just by her family and friends, but by all Australians."
Chinese government provides sentence details
In correspondence attributed to the Chinese Ministry of National Security, the Chinese government said: "In May 2020, Cheng Lei was pulled by a staff member of an overseas institution, violated the confidentiality clause signed with the employing entity, and illegally provided the state secret content she learned at work to the overseas institution through her mobile phone".
The ministry said it filed an investigation, then "the Beijing Municipal State Security Bureau took criminal compulsory measures against Cheng Lei in accordance with the law in August 2020".
The Chinese government said she "truthfully confessed the facts of the crime, voluntarily admitted guilt and accepted punishment".
When asked if Ms Cheng had been pardoned by the Chinese government, Mr Albanese said: "No, it [her sentence] was completed with time served in detention being taken into account."
Ms Cheng was tried behind closed doors in March last year, but the verdict that was reached hadn't been released until Wednesday.
Deputy Opposition Leader Sussan Ley welcomed the news of Ms Cheng's return adding that she was "delighted".
Ms Ley paid credit to the government for its efforts: "I am so happy for Cheng Lei," Ms Ley told the ABC.
"I still remember the letter she wrote from the cell which only got that tiny bit of sunlight every day."
In a statement, the opposition thanked "those who have worked tirelessly over three years to secure this outcome and acknowledge everyone who has advocated for Ms Cheng's release" and particularly acknowledged Australia's ambassador to China, Graham Fletcher, who accompanied Ms Cheng on her return flight.
She was also met at the airport by Foreign Minister Penny Wong,
'I miss the sun,' Cheng wrote from Beijing cell
Earlier in the year, Ms Cheng released a public statement. ABC's 7.30 received a copy that was dictated to an Australian consular official in Beijing and given to her partner Nick Coyle.
It read: "I miss the sun. In my cell, the sunlight shines through the window, but I can stand in it for only 10 hours a year," she wrote from an undisclosed facility in Beijing.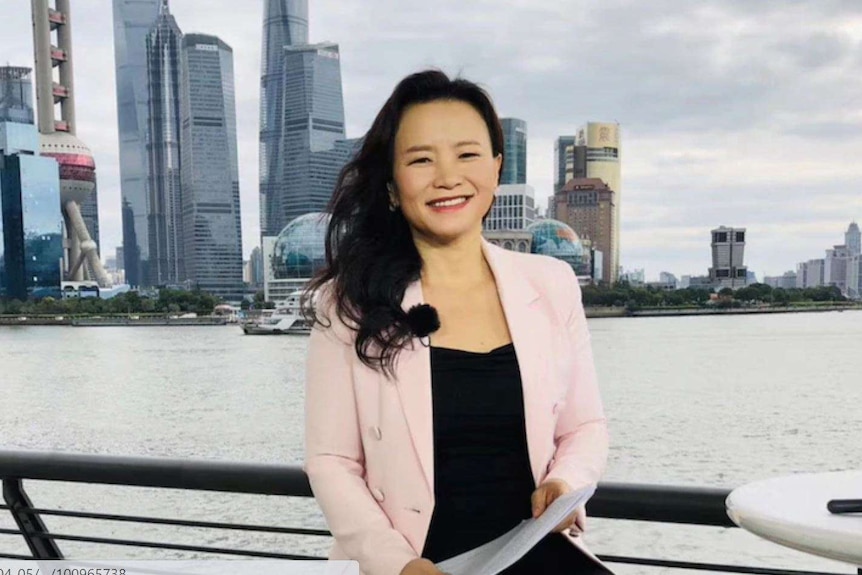 "This is a love letter to 25 million people and 7 million square kilometres of land, land abundant in nature, beauty and space. It is not the same in here, I haven't seen a tree in three years."
She finished the statement, in which she addressed the Australian public, by adding how much she missed her children while incarcerated.
The prime minister asked for the public to respect Ms Cheng and her family's privacy.
"Our focus remains on her interests and welfare, and we are asking for her privacy and that of her family [to] be respected at this time as she adjusts to what has obviously been a very difficult and traumatic period for her in her life," he said.
Mr Albanese is expected to visit China by the end of the year, with the prime minister saying he is trying to find a "mutually agreeable time" with the Chinese government.
While Ms Cheng is now home safe, Mr Albanese could not provide an update on the fate of Australian man Yang Hengjun, who has been detained in China since 2019.
"We continue to advocate for Dr Yang's interests, rights and wellbeing with Chinese authorities at all levels, whether that be in Canberra or Beijing," the prime minister said.
"We have done so consistently since Dr Yang was detained in January 2019 and we'll continue to do so."
follow on Twitter
[custom-twitter-feeds class="twitter-styling" showbutton=false showheader=false]
People say that (writers) are pretty powerless: we don't have an army, we don't have a bureaucracy. But if that were true, then why would writers be arrested?... Because the spoken word is powerful.