Current projects
PEN Melbourne current projects
No Friend But The Mountains has won TWO awards in two nights: NSW Premiers Special Award and the ABIA award for General Non-fiction. And the book was released in the UK today too. (Friday, 3rd May, 2019)
Best and warmest congratulations to all who made this astonishing and important book live for us the readers. Author Behrouz Boochani who tells so deeply and with such insight (and humour) the horrors of the realities of daily life lived out on Manus Island by people who have done nothing wrong but who have as is their right under the UN convention to which Australia is a signatory, have sought refuge from tyranny and persecution and in some cases certain death. And Omid Tofighian his brilliant translation and interpretations, and Janet Galbraith who has worked with and for Behrouz from the start. And others whose moral support of Behrouz in dark hours has played a huge role too, Arnold Zable being one I know of.
These awards are rightly given. Not only is No Friend But the Mountains a powerful work of literature, it is a necessary book, shining an all too human light on one of our darkest hours this century.
Chris McKenzie
P E N M E L B O U R N E | A R T S M I L D U R A
From seed to fruit: how to write your story
In this full day workshop, facilitated by Aboriginal author and freelance writer Karen Wyld, you will learn how to take your ideas or events and turn them into a written piece.
Whether you are interested in writing fiction, poetry, non-fiction or memoir, this workshop will inspire you to take the next step. Through a mix of activities and yarning, in a culturally safe space, you will build confidence in your writing. This workshop is suitable for people interested in storytelling, to emerging writers and more experienced writers. Follow up support will be offered to participants.
WORKSHOP WITH KAREN WYLD
www.artsmildura.com.au
Arts Mildura Would like to acknowledge all the Traditional Aboriginal tribes on whose land that we work and the Museum of Innocence is located, being the first people of this land. We pay our respects to the people, land, water & animals.
Writing Workshop for Indigenous Writers: Saturday 29th June 2019 10am – 4pm
Cost: free and lunch is included RSVP interest via email
info@artsmildura.com.au Venue: Arts Mildura 33 Deakin Ave Mildura
Behrouz Boochani
Help Behrouz Boochani
Kurdish-Iranian journalist, writer, and activist Behrouz Boochani has been detained, seeking asylum, by for three years now. Currently detained on Manus Island, he's been waiting for Australian authorities to consider and respond to his case. Click on the image to READ the campaign letter and TAKE ACTION by WRITING to Dutton and Turnbull.
MEAA is co-ordinating a new campaign calling for the Morrison Government to resettle in Australia the acclaimed journalist, writer and film-maker Behrouz Boochani, who has been detained for more than half-a-decade at the Manus Island Regional Processing Centre, operated on behalf of the Australian government.
https://www.meaa.org/campaigns/free-behrouz/
---
PEN Melbourne Campaigns
PEN Melbourne, as part of PEN International, campaigns on behalf of writers across the globe who are persecuted, harassed and attacked for what they have written or simply for being a writer. Along with our frequent Rapid Action Alerts on behalf of individuals, issued by the Writers in Prison Committee, we regularly run thematic campaigns. Find out more about our current campaigns and how to get involved by visiting the pages below:
WRITERS IN PRISON
WOMEN WRITERS
TRANSLATION & LINGUISTIC RIGHTS
THE EMPTY CHAIR
LATEST NEWS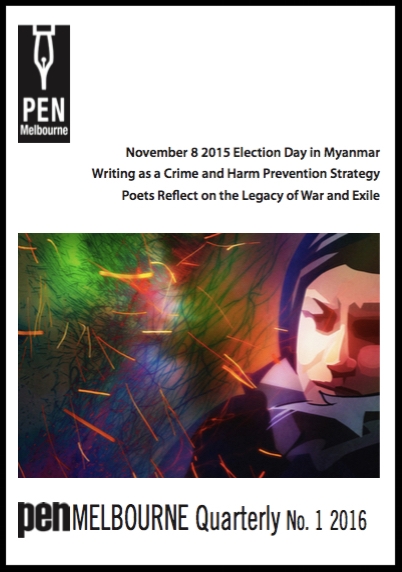 PEN Melbourne Quarterly
For those of us who consider reading and writing an essential part of life, the idea that a writer, editor or publisher could be pressured, imprisoned or blacklisted because of his/her work is a horrifying one. PEN Melbourne has an active programme of letter writing, events and publicity designed to increase international pressure on governments that persecute writers for peacefully exercising their rights to freedom of expression. The keystone of our programme is our response to Rapid Action Network.
The PEN International Women Writers Committee was set up in 1991 to promote certain issues faced by women writers around the world – challenges at family and national levels such as unequal education, unequal access to resources and actual prohibition from writing.
The Committee has multiple objectives and functions. Primarily, it focuses on issues of translation and linguistic rights and the effects these issues have on readers and writers across the globe, including at a most basic level, access to literature. Concurrently it places great emphasis on the role that literary translation can play in enabling inter-culture dialogue and exchange.
Since the 1980s PEN International has used the Empty Chair at events  to symbolise a writer who could not be present because they were imprisoned, detained, disappeared, threatened or killed. The Empty Chair often represents a specific case, rather than all writers at risk, and regularly takes centre stage at such venues as the Melbourne Writers' Festival.  Each year PEN Centres worldwide traditionally exhibit an Empty Chair on November 15  – the Day of the Imprisoned Writer. PEN Melbourne also hosts events on this day.
For the latest news from PEN International and PEN Melbourne, from panels at Melbourne's literary festivals to international reports concerning freedom of expression, check out what we've been up to here.
The PEN Melbourne Quarterly is sent out to members of PEN Melbourne twice a year by email as a PDF file. The Quarterly includes news from our committees, updates on PEN concerns and contributions of writing and poetry from members along with invitations to forthcoming PEN Melbourne events. Click here to read past issues.