PEN Melbourne news
Latest News from PEN
Refugees denied international protection and shown cruelty and inhumanity
The continued detention of Kurdish-Iranian writer and activist, Behrouz Boochani, is an egregious violation of international standards of protection for refugees and exposes Australia's cruel disregard for the welfare of asylum seekers. On Human Rights Day, PEN International calls on Australia's authorities to end its unacceptable treatment of asylum seekers and immediately find safe and meaningful resettlement options for Behrouz Bouchani and all other refugees currently stranded on Manus Island and Nauru in line with international law.
Read the full article on PEN International's website.
---
PEN Melbourne remembers Rosie Scott
By Judith Rodriguez
The fact that Rosie Scott's friends have known the desperate state of her health for many months doesn't lighten the blow of losing her. A fine writer, a beautiful and generous friend has gone from among us. Over the last decade and a half we have grown to admire the Rosie Scott who will continue to be admired even by those who didn't have the good fortune to know her. Rosie was a hero in the fight to give voices to the despised and rejected, and to make Australia a more generous and right-thinking place than venal politicians have, it seems, have made it.
Rosie Scott, with her co-editor Thomas Keneally, edited and saw through to publication two collections that reached out to one another like those who did the writing: the asylum-seekers for whom Rosie fought so unremittingly, and the Australian writers who, in the words of reviewer Di Cousens, "give us back our imagination" to understand suffering and to reject the policies that cause it. Another Country and A Country Too Far together record the huge disjunction of humanity, the monstrous injustice involved in delaying acceptance of refugees, in placing them in detention, and in desperately planning alternative destinations for them while reneging on our national undertakings under the U.N.
I remember Rosie, earlier in this century when we still tolerated detention centres on our own soil, standing to speak on the dusty South Australian country road in front of the gates of Baxter Detention Centre. She had gathered together activists for child detainees, supporters from the writing community including PEN—many come from other states—and people from Whyalla who were endeavouring to help the detainees, and launched Another Country in sight of that prison. Rosie went on to recruit the Australian writers for the second book, and continued working for publicity in many cities and venues.
When eventually the policies of rejection and detention are abandoned and condemned, it will be found that many were reached and many were humanised by Rosie's work. She gave a public voice to the dozens of asylum-seekers she published and to the writers who cared.
Vale Rosie. You showed, to quote your Introduction to A Country Too Far, that "workable and compassionate ideas about this human tragedy are not only possible but essential for us as a nation".
---
Urgent Statement by PEN Melbourne regarding Behrouz Boochani's safety
We are very concerned for the safety of detained Kurdish journalist Behrouz Boochani, who has been reporting from within Australia's immigration detention centre on Manus Island for more than three years.
Over the past week he has reported on the death of Faysal Ishak Ahmed, an inmate in the detention centre, and more recently on the beating of two refugees by immigration officers and police on Manus Island.
On the 1/1/2016 local MP Ronny Knight tweeted a message that reads 'Behrouz Boochani is a liar and has an agenda and should apologise to police… Boochani will be arrested for lying and insulting police'.
We call on the Australian and Papua New Guinean governments to honour their commitment to democracy including the right to free speech and to ensure Mr Boochani's safety.

---
Australia's draconian laws and amendments are recognised by PEN International

Read the 2016 PEN International PEN Congress's resolution regarding Australia laws and amendments affecting communications and data retention in regards to asylum seekers and detention centres. For example, the Border Force Act of 2015 makes it a crime punishable with two years' imprisonment for anyone working for the Australian Immigration Department to report on what they see while working in a detention centre.
---
At PEN Melbourne we're excited about our partnership with The Mildura Writers Festival and have recently had the pleasure of offering the second Mildura Indigenous Writers Award, in association with the Mallee District Aboriginal Services. The winner for the 2016 prize is Sianlee Harris with her story, 'Memories'. To read Harris's story as well as more about PEN's celebrations at Mildura, download the latest PEN Quarterly.
The award is open to local Indigenous writers aged 16 years and over, for a short piece of fiction up to 2,000 words, or a poem (open theme). The winner is awarded a prize money of $1,200.
The 2017 entries will open in May 2017 and close on 1 July 2017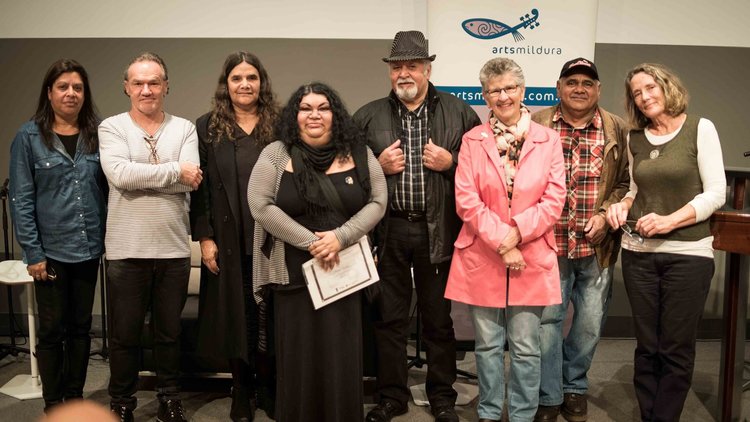 ---
PEN Melbourne President Christine McKenzie moderated a panel including Afghan refugee and poet Mujtaba Razai, Iranian-Baha'i activist and writer Rosa Vasseghi, and Sri Lankan novelist Rajith Savanadasa. The panel shed light on giving a voice to those often silenced, as well the difficulties of writing under persecution and in exile. The event was organised by RMIT's Professional Writing and Editing students and all proceeds from the festival's raffle were donated to PEN Melbourne.
---
Arnold Zable of PEN Melbourne participated in a panel discussing one of the most urgent and meaningful concerns at present for all Australians: Can the Refugee Narrative Be Shifted?
From media to politics, Madeline Gleeson, Abdul Karim Hekmat, Jamila Rizvi and Arnold Zable deconstructed the public perception of refugees and asylum seekers. How can we shift the narrative – and the language we use when talking about asylum seekers – to become more welcoming and positive? With Ruby Hamad.
The event was supported by Save the Children and PEN Melbourne
---