PEN International
PEN International, the worldwide association of writers, emphasises the role of literature in mutual understanding and world culture; and promotes literature in various ways, including opposing restraints on freedom of expression and working to promote literacy itself. Today International PEN has 147 centres in over countries across the globe, and is a powerful voice on behalf of writers harassed, imprisoned and sometimes murdered because of the words they write.
Read more about PEN International's history.
---
Clement: ' Today, after almost one hundred years, I believe our Charter would be stronger if it included gender, sexual orientation, sexual identity and religion.'
---
Charter of PEN International
"LITERATURE, national though it be in origin, knows no frontiers, and should remain common currency among nations in spite of political or international upheavals.
IN ALL CIRCUMSTANCES, and particularly in time of war, works of art and libraries, the heritage of humanity at large, should be left untouched by national or political passion.
MEMBERS OF PEN should at all times use what influence they have in favor of good understanding and mutual respect among nations; they pledge themselves to do their utmost to dispel race, class, and national hatreds and to champion the ideal of one humanity living in peace in the world.
PEN STANDS FOR the principle of unhampered transmission of thought within each nation and among all nations, and members pledge themselves to oppose any form of suppression of freedom of expression in their country or their community.
PEN DECLARES for a free press and opposes arbitrary censorship in time of peace. It believes that the necessary advance of the world toward a more highly organized political and economic order renders free criticism of governments, administrations, and institutions imperative. And since freedom implies voluntary restraint, members pledge themselves to oppose such evils of a free press as mendacious publication, deliberate falsehood, and distortion of facts for political and personal ends."
Download a PDF version of PEN International's Charter.
---
WATCH: THE PEN STORY
PEN CENTRES AROUND THE WORLD
Founded in London in 1921, PEN International – PEN's secretariat – connects an international community of writers. It is a forum where writers meet freely to discuss their work; it is also a voice speaking out for writers silence in their own countries.
Through Centres in over 100 countries, PEN operates on five continents. PEN International is a non-political organisation which holds Special Consultative Status at the UN and Associate Status at UNESCO. COURTESY: PEN International.
---
THE WORK OF PEN INTERNATIONAL
From PEN International President, John Ralston Saul
---
THE EMPTY CHAIR
Since the 1980s PEN International has used the Empty Chair at events  to symbolise a writer who could not be present because they were imprisoned, detained, disappeared, threatened or killed. The Empty Chair often represents a specific case, rather than all writers at risk, and regularly takes centre stage at such venues as the Melbourne Writers' Festival.  Each year PEN Centres worldwide traditionally exhibit an Empty Chair on November 15  – the Day of the Imprisoned Writer. PEN Melbourne also hosts events on this day.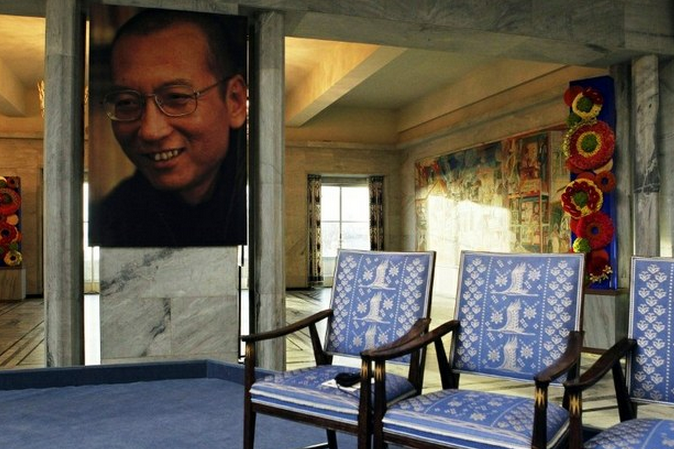 A portrait of imprisoned writer Liu Xiaobo hangs near the empty chair placed in his honour during the ceremony in Oslo, Norway in which he was awarded the Nobel Peace Prize in absentia on Dec. 10, 2010. Photo: AFP