PEN Melbourne Magazine
The PEN Melbourne Magazine is sent out to members of PEN Melbourne two times a year by email as a PDF file. The Quarterly includes news from our committees, updates on PEN concerns and contributions of writing and poetry from members along with invitations to forthcoming PEN Melbourne events.
Contribute to the PEN Melbourne Magazine
The editor of The PEN Melbourne Magazine is Stephanie Holt. Please send submission enquiries to stephanie.holt@rmit.edu.au
Please send any other PEN Melbourne Magazine enquiries to admin@penmelbourne.org
Become a Member
To receive PEN Melbourne's Magazine, along with invitations to events with prominent Australian and international writers, please consider joining PEN Melbourne. Our continued efforts rely on your generous support.
Past PEN Melbourne Magazine issues
While we'd love to have you on board as a PEN Melbourne member, even if you're not, here are some past issues for you to read. Previously the PEN Melbourne Magazine was titled PEN Melbourne Quarterly. Click on the thumbnail to download a PDF issue. Later issues will be added in the future. Please feel free to share them with friends and colleagues.
PEN Quarterly 2016, issue no. 4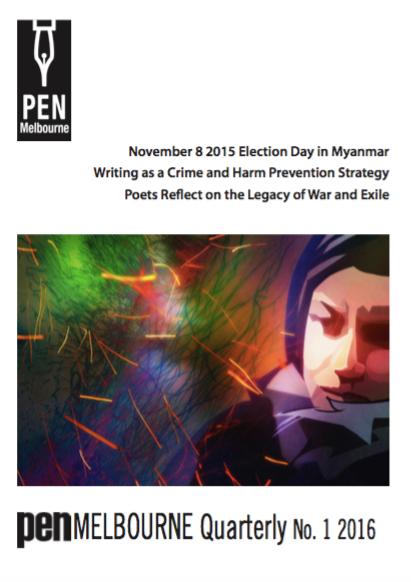 PEN Quarterly 2016, issue no. 1
PEN Quarterly 2017, issue no. 1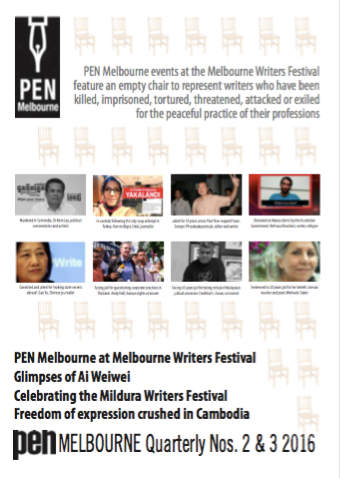 PEN Quarterly 2016, Issues nos. 2 & 3
PEN Quarterly 2017, Issue no. 4